Keyboard controls and instructions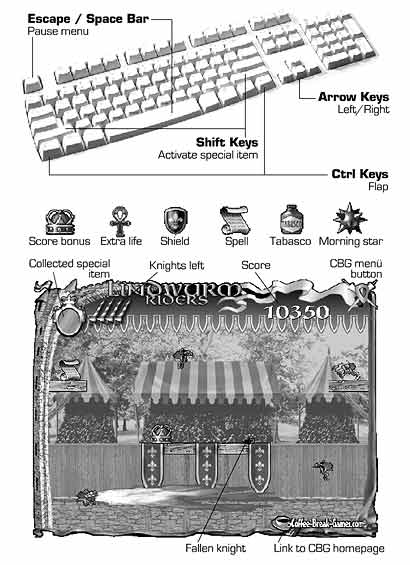 Climb onto your dragon and prove your courage and abilities in this breathtaking Fantasy Tournament!
Prevail against your challenger and his dragon, as he attempts, both on the ground and in the air, to remove you from your perch.
Choose between different Lindwurms, each of which possesses its own special talents.
Once the tournament has begun, use the Ctrl key to flap the wings and use the Arrow keys to steer.
The rider with the lowest altitude at the point of impact will be thrown to the ground.
Eject fallen riders out of the arena to prevent them returning to their dragons and beginning the fight anew.
Collect extras to set the unknown powers of your Dragon free. Activate collected extras with the Shift key.
Pause the game with the Escape key or the Space Bar Every 10,000 Points rewards you with an extra life.
Don't give yourself too much time however. After waiting too long, more odious opponents arrive in the arena...