Keyboard controls and instructions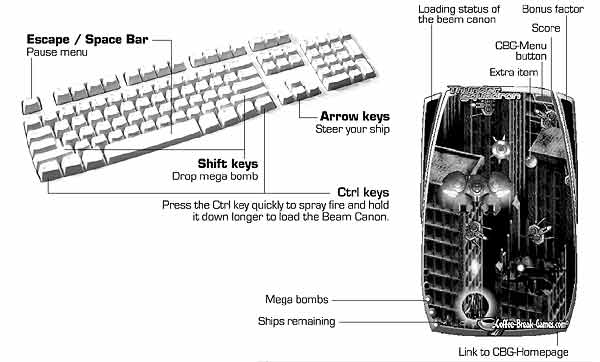 You are Squadron Leader of the last remaining fighter unit of the Resistance against Extraterrestrial Invaders. The earth is already either occupied or destroyed. Only the small lunar outpost was underestimated by the invaders.
It is from here that we are coordinating your mission to save Humanity from extraterrestrial slavery. You will begin your attack from the moon. The route will lead you directly through the enemy forces´ orbit.
Should you reach the earth's surface you must then find the underground accelerator device that will automatically propel you through the enemies warp satellite, sending you directly into the heart of the enemy's planetary system. This is the setting which will determine the fate of humanity.
Control your ship using the Arrow keys.
Press the Ctrl key quickly to spray some fire.
Press longer to load the Beam Cannon which gives a more powerful shot, but be careful. If you load the Beam Cannon too long, your own ship might explode.
If things get hairy press the Shift key to drop one of your bombs.
The number of bombs you have left is shown under the playing field in yellow points on the left.
Pause the game by pressing the Escape key or Space Bar.
The highest right bar shows you what your current bonus factor is: Shoot your enemies as quickly in succession as possible and this factor will increase and multiply the points scored for the following hits.
Every 100.000 points gets you a bonus Space Ship.
Collect extras to improve your weapons:
Red - Firepower
Green - Defense shield energy
White - Rocket launchers
Yellow - Extra Bombs
Blue - Orbiter
Violet-Bonus points
You are the last hope for all of humanity. You are in all of our thoughts. Good Luck!