Keyboard controls and instructions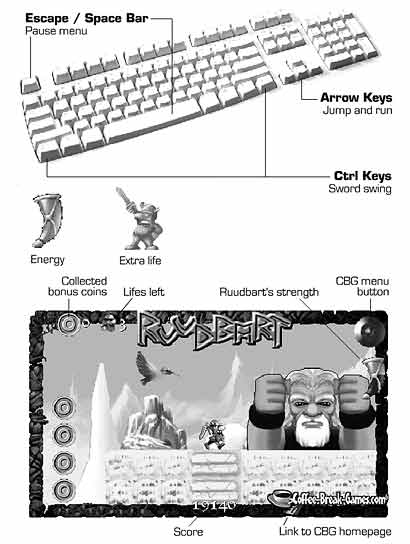 The Viking world is grieving. The underworld Goddess Hel has stolen their symbol for fame, power and bravery: the "Golden Drinking Horn".
After much negotiation they have finally found someone willing to attempt to return the Holy Drinking Horn, and its powers to its rightful owners - Ruudbart!
Use the Arrow keys to direct Ruudbart and swing his sword by using one of the two Ctrl keys.
Hint: Press the down Arrow to discover objects hidden down low. Pause the adventure with the Escape key or the Space Bar.
Collect the smaller Drinking Horns with healing potions to strengthen Ruudbart´s powers. Find the magic Viking Statue and Ruudbart receives a bonus life. As the dark goddess Hel was fleeing from the world of the living, she lost almost all of the other treasures she had stolen. Follow the trail of silver coins, and collect them in order to increase your point total!
Some opponents are not only conquered with a sweep of the sword, but also by leaping onto their evil heads. But watch out: used on some creatures this tactic might backfire.
So raise the sword and begin a journey full of surprises and amazing creatures.