Keyboard controls and instructions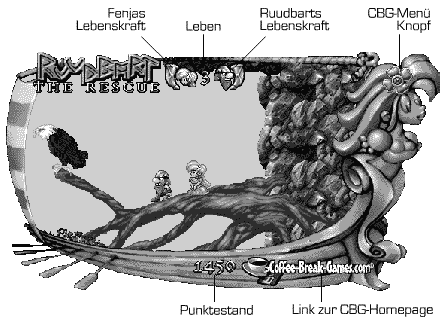 Plundering hordes have captured Ruudbart's adored Fenja! Help the brave viking to find and return the lovely maid to their homeland.
Control Ruudbart using the arrow keys of your keyboard. Press the Ctrl- / Strg-Key, to throw the magic axe that Ruudbart has found on his homeward journey returning from his last underworld adventure!
Once Fenja has been uncaged, she will follow Ruudbart's every step. Protect her from monsters and traps and always look out for not losing her. Sometimes it may be helpful to leave her behind at some special points - while fighting on alone before picking her up again and continuing the journey.
Also pay attention underwater, as Fenja can't dive as long as Ruudbart does!