Keyboard controls and instructions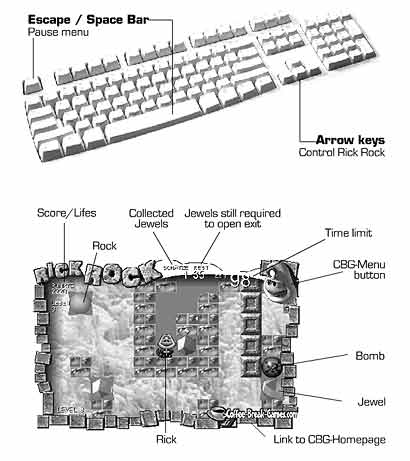 Help the fearless adventurer Rick Rock in his search for treasure in every corner of the world!
Move Rick with the Arrow keys through the mysterious cavernous regions and press the Escape key or Space Bar to give both him, and yourself a rest.
Rick needs to be aware at all times: Not only because he could be crushed any second by falling rocks, but because of the innumerable creatures of the underworld that are after him, trying to prevent him from stealing their treasures. One touch from them and it is over for Rick!
In order for him to escape the excavation site, Rick needs to collect the minimum number of gems which will allow him to pry open an exit. Only then will he succeed in saving himself!
Eliminate the monsters by having stones fall on them. This can be very helpful as the explosions can bring down walls or, depending on the monster, free up new gems. Find the secret magic walls behind which stones are transformed into diamonds and meet the constantly growing amoeba. It can help you in your quest for treasure.