Keyboard controls and instructions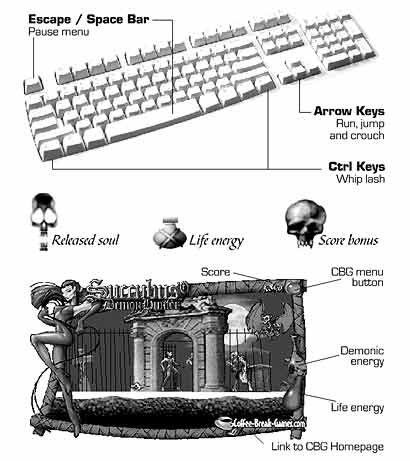 Welcome to the realm of the night, to the place where the soul of the bewitching Justine has been banished.
Forced by a devilish curse uttered by the death angel Astaroth, Justine´s powers of unimaginable beauty are being used by Astaroth to lead helpless souls astray and rob them of their powers. Help her break the curse and use her demonic powers against the dark spirits and demons she is now forced to serve. First find, and then force Justine´s repressor to return her to a mortal state, thereby saving her soul.
Control Justine with the Arrow keys and swing her Magic Whip with either of the two Control keys.
To pause your adventure, press the Escape key or the Space Bar.
Collect the freed souls of conquered enemies for strength. Depending on the color Justine can gain either Life Energy (red) Demonic Powers (green) or a Point Bonus (white).
As her Demonic Powers grow, Justine becomes stronger and unleashes the unknown powers of her magic whip.
If, however, the demonic powers become too strong, her bodily form will begin transforming into that of a demon.
Use her wings to reach distant areas of the different worlds.